Posted by ilFornino New York on 18th Nov 2018

Ingredients:
16 ea. Oysters
4 oz. Butter (soft)
1 ea. Chipotle Peppers (in the adobo sauce)-Minced
3 tbsp Wildflower Honey
3 tbsp Bourbon
2 tsp Roasted Garlic (mashed to a paste)
1 ea. Lime Zest and juiced
2 tbsp sliced Basil
Kosher Salt for platting
Method-
Build a fire in your Wood Fired Oven to create a large bed of hot coals. In a bowl of a food processor combine the soft butter, minced chipotle peppers, wildflower honey, bourbon, lime juice, lime zest, and roasted garlic. Puree ingredients until mixed well. Remove the butter from the food processor into a small bowl. Set to the side.
Gather enough hot coals to create a large bed for the oysters to roast on. Place the oysters on the coals. Roast the oysters until the pop open. Make sure the front of the shell is facing the oven opening. This will ensure a clear view of the oyster popping open. Once they are opened remove the oysters off of the coals. Place them on a flat surface and slice the oyster away from the shell. Place a dollop of bourbon butter on the oyster and top with some sliced basil.
Create a bed of salt on your serving platter. Place the oysters on the salt bed. This will hold the oyster level so that the juicy, buttery deliciousness won't run out.
Variation-
1 c. Creme Fraiche, 2 Tbsp ea. of Tarragon, Chervil, Chives, Parsley, 1 Lemon juiced and zested, 1 tsp Black Pepper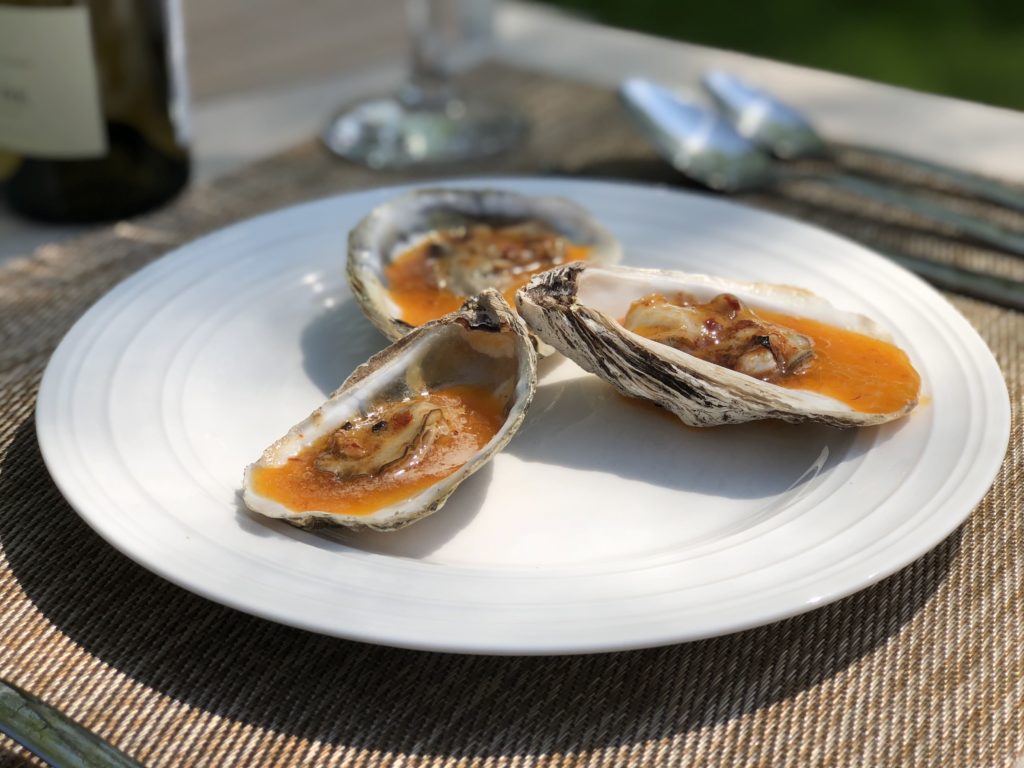 View More