St Patrick Day Celebration w/t Wood Fired Pizza
Introduction
Saint Patrick was the Patron Saint of Ireland. He brought Christianity to a land were pagans and warring factions ruled around the 5th century. In order to celebrate St. Patrick's Day, I thought I would bake some pizzas that pay homage to this wonderful holiday. I decided to use an authentic New York Style Pizza as the pallet for my creation. My theme is to decorate the pizza with iconic representations of Ireland and St. Patrick's Day. I chose to represent the Irish Flag, the color green and a Shamrock to do so.
Different regions of the country have developed pizza that is unique to that region. New York is no exception. New York pizza has unique attributes. It is composed of a thin crust, flavorful sauce, shredded low moisture mozzarella, and can be enjoyed cold at room temperature as a midnight snack. It is enjoyed so much, that when people either move or visit other areas of the country, they seek out pizza restaurants that boast New York Style Pizza. More often than not, these restaurants fall short in delivering New York Style Pizza. In order to duplicate the unique flavor, and texture of a New York Pizza, home chefs tend to duplicate the recipe for their home stove. While most New York Pizza is baked in a gas oven at lower temperature, using your ilFornino wood fired oven can elevate the experience to a higher level. Whereas ilFornino ovens can also create authentic Neapolitan Pizza due to its ability to produce high temperature and rolling flame, New York Style Pizza is cooked at a lower temperature closer to 600 degrees. Once your oven is preheated as normal, you would then allow it to cool. Besides temperature and cooking time, there is a vast difference between the Neapolitan and New York Style Pizza dough. Neapolitan is a simple dough made with "00" pizza flour and very few ingredients, water, salt, yeast and flour. New York Style Pizza has a crispier consistency crust that uses bread flour and added olive oil. The tomato sauce is different, as well. Unlike Neapolitan Pizza sauce, which is simply uncooked San Marzano tomatoes, New York Style Pizza sauce is of a thicker consistency with Italian seasonings. Some add tomato paste to thicken the sauce, while others reduce the sauce by cooking it.
I have started this recipe with the traditional toppings for a New York Pizza. Later I will show my St. Patrick's Day twist on this. This pizza can be used as a centerpiece for your event, while traditional New York Pizza with your favorite toppings can be baked and served. In honor of St. Patrick's Day, I wanted to embellish the toppings to replicate the Irish Flag.
Necessary Equipment For New York-Style Pizza
An ilFornino wood fired oven or other similar oven with wood and associated tools such as a pizza peel would be applicable for the baking. A home oven with a preheated pizza stone will work, as well. Measuring cups and spoons, bowls to hold and mix all the ingredients.
A large mixing bowl, stand mixer with dough hook, or a bread machine for making the dough.
A pan or containers for dough balls to rise and mature in the refrigerator.
Ingredients for New York Pizza (Four 12" pies)
FOR THE HOME MADE NEW YORK PIZZA SAUCE:
28 ounce can of San Marzano tomatoes- drained and crushed. (If unavailable, use standard tomatoes with some sugar to round out the flavor.)

2 tablespoons of dry oregano or a blend of Italian spices.
1 teaspoon of dry red chili pepper (optional).
2 teaspoons of salt, to taste.
2 tablespoons of tomato paste.
STEPS FOR PREPARING THE NEW YORK PIZZA SAUCE AND ICONIC TOPPINGS:
A day ahead of making the pizza, drain the tomato liquid from the can and crush the remaining tomatoes

Add salt and Italian herbs or oregano to the mix
Place in a jar and store in the refrigerator for at least one day for the flavors to absorb
DOUGH INGREDIENTS FOR NEW YORK PIZZA:
24 oz. of bread flour
16 oz. of warm water
2 and ½ teaspoons of instant yeast
2 tablespoons of extra virgin olive oil
1 tablespoon of sea salt
1 teaspoon of sugar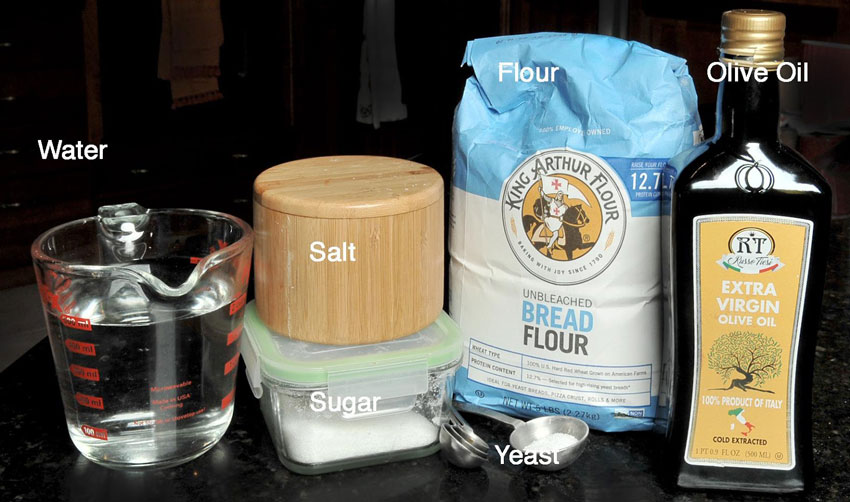 MAKING HOMEMADE NEW YORK PIZZA DOUGH:
In a mixer with dough hook, a bread maker or a large mixing bowl, place water, sugar, salt, olive oil and yeast into a bowl and mix for about 10 minutes.
Remove the dough onto a lightly floured surface and hand knead until smooth.
Place the dough ball into a lightly oiled bowl or container and let it rise for 2 hours.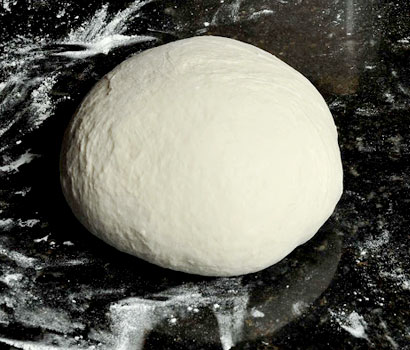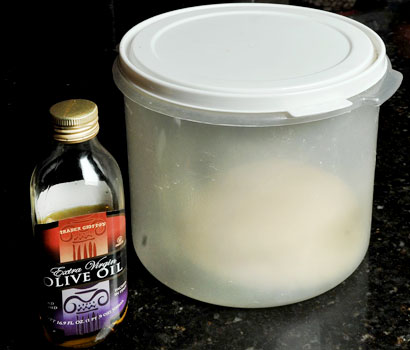 After rising, punch down the dough ball by hand.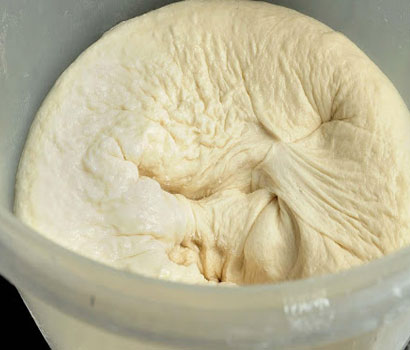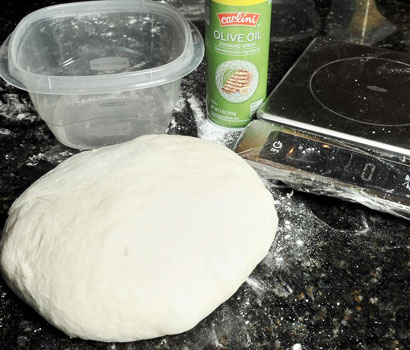 Reform into a smooth dough ball on a lightly floured surface and divide the dough into 4 balls of equal weight.
Transfer the dough balls into well oiled lidded containers and refrigerate for one day.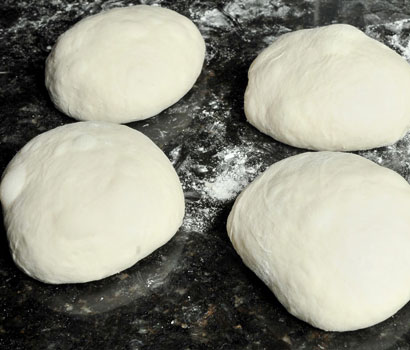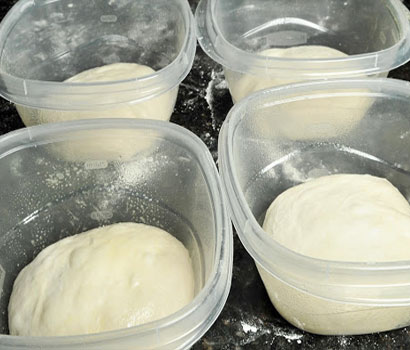 PREPARING THE TOPPINGS AND ASSEMBLING THE PIE:
I prefer a wooden pizza peel that has a good amount of semolina to keep the uncooked pizza from sticking. This is necessary because the longer the dough is in contact with the pizza peel, the greater chances of moisture to collect on the bottom and sticking to occur. The first layer in New York Pizza is nice layer of sauce. A sprinkling of grated Parmesan or Romano cheese, followed by low moisture whole milk shredded Mozzarella, follows the sauce,. Do not substitute the Mozzarella with anything else or you will have wasted your time. I would start off with this simple combination to test the outcome of your effort, but feel free to choose toppings of your choice.
BAKING THE NEW YORK STYLE PIZZA IN YOUR WOOD FIRED OVEN:
Start you fire and pre-heat your ilFornino Pizza Oven making sure the oven floor is uniformly hot. A good heat soaking of the oven floor is essential for a creating the crispy crust associated with New York Pizza.

If you are using a wood fired oven, fire-roast any toppings, while the flame is present. I chose to introduce bell peppers at his time. You could plan other foods, such as eggplant, butternut squash, onions and potatoes.
Make sure that there is no residual flame emanating from the wood and distribute the glowing coals evenly on the entire cooking surface. Allow the oven temperature to drop to about 600 degrees and sweep the coals to the back of the oven. If you are using a gas or electric oven, place a pizza stone in the oven about 1/3 of the way up from the bottom. Pre-heat the stone for an hour to make sure it gets saturated with heat. This will be necessary to insure a crispy crust and the pizza bakes evenly.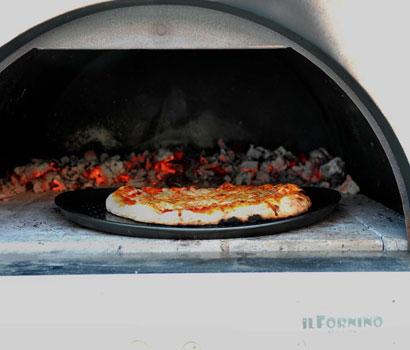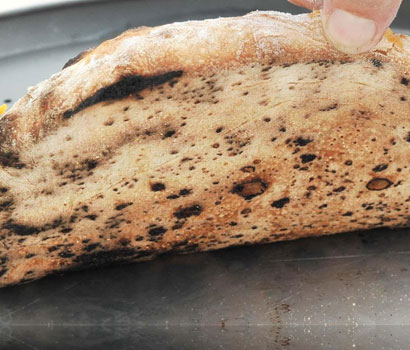 Place the assembled New York Pizza in the oven. For best results, use an ilFornino oven with One Flat Cooking Surface. The one-piece construction of the oven floor insures even heating. Keep mindful that the first pizza may have the crust cook faster than the rest of the pie. If you find that to be the case, transfer the first pie to a perforated metal plate for completion.

When you see that the crust is done, move the finished pizza to a cooling rack to prevent the bottom from becoming soggy. You have just created a basic New York Style Pizza.

For St. Patrick's Day Centerpiece Display, I dressed the pizza with vertical stripes of baby spinach, ricotta cheese, and mashed baked sweet potatoes that I prepared in the oven and fashioned a Shamrock in the middle.
Place it back into the oven and lift it towards the roof to get the top hot. Let cool before slicing. The New York Style Pizza has the characteristic of being able to fold the thin crust in half for ease of eating, without bending or flopping over. As such, the crust on the bottom is thin but strong. Don't forget, it can also be enjoyed at room temperature.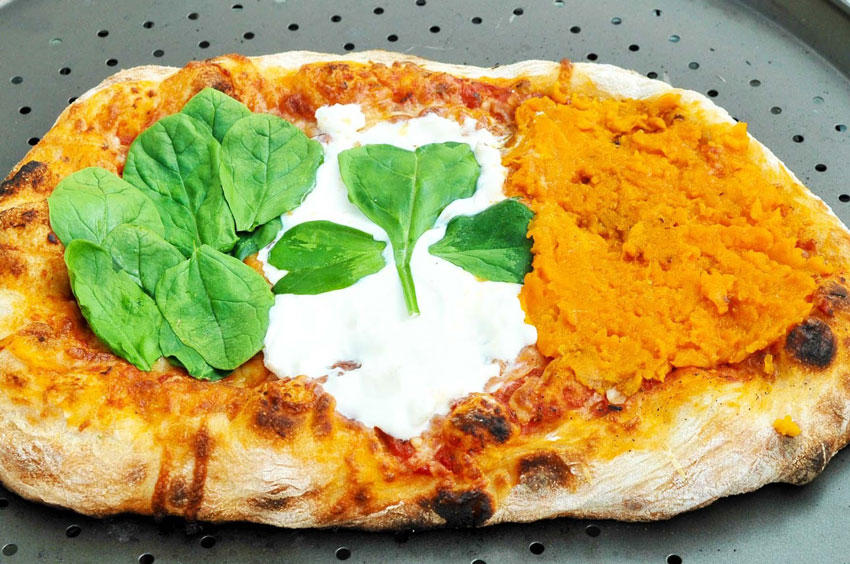 The crust at the edges should be airy as well, but not as puffy as a Neapolitan Wood Fired Pizza but not flat either.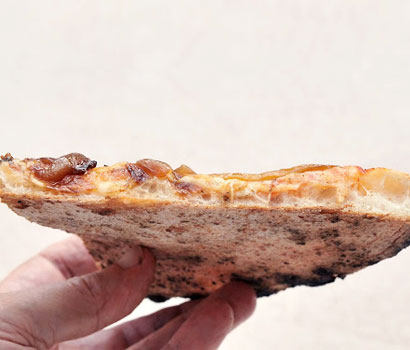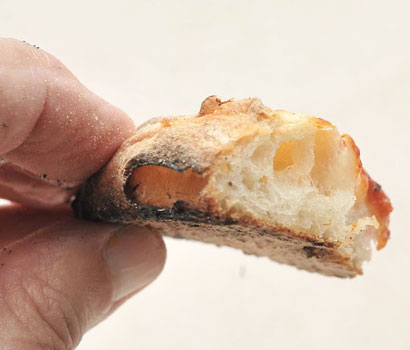 Tips
You can add other variations of topping for your next pies. Don't forget that while your oven is cooking; take advantage of the oven by introducing other foods for cooking. Don't forget that during the initial heating you can still produce Neapolitan Pizza and enjoy the best of both worlds. If you don't have a wood fired oven yest, then make sure you get an ilFornino Wood Fired Oven. Until then, you can cook this in your home oven by heating a pizza stone for an hour on the highest temperature.
Keep in mind; this is for St. Patrick's Day. You should have plenty of Guinness, Irish Whisky, and follow it up with some nice Irish coffee if you can still stand.
If you somehow have leftovers, note that New York Pizza can be eaten cold at room temperature. So it is nice for a mid-night snack without the fuss.
Summary
Making a New York Pizza is different from Neapolitan Pizza, or any other pizza for that matter. Don't discount making New York Pizza for St. Patrick's Day. After all, New York is also known for its Saint Patrick's Day Parade and Green Bagels on this holiday, as well.