Best Things You'll Want to have in your Backyard!
The ilFornino® Platinum Plus Oven sports a very special name. The word Platinum, in this case, is not just added as a marketing ploy, but it reflects the unique features and quality that makes this designation earned rather than just assigned. It is fitting that a Precious Metal is used to describe the execution of this oven, and here's why: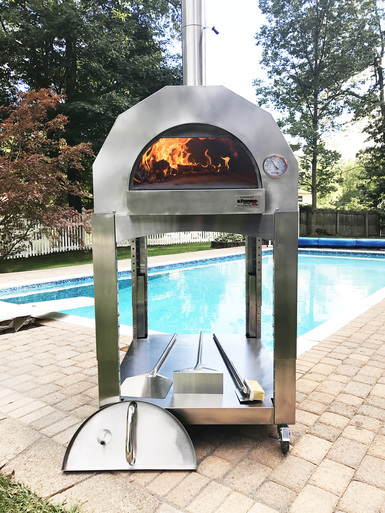 The features of this oven allow it stand above all the rest. You are immediately drawn to the unique shape of the oven. It is not simply rounded like most others but has a bold geometric hard chine shape. Obviously, a simple semi-circular bent piece of a single sheet of steel is so much easier to produce. As you get closer to the unit, it becomes apparent that the design is flawlessly executed. The angles that make up the roof of the oven are continuously welded, 14 gauge stainless steel and polished to perfection. The specifications of the steel are more substantial than other ovens in this category.
Another striking feature is the sheer thickness of the oven walls from interior to exterior. Six inches of high-quality insulation is sandwiched between the inner and outer wall. That extra thickness ensures several important advantages. First of all, the outer surface of the oven remains cool to the touch. Next, and this is most important, the added material will translate in greater Thermal Mass. Thermal mass gives the oven the longevity to retain heat after the wood and coals have done their work. Because of this feature, the thermometer has been relocated to be somewhere in the middle of the insulation layer, instead of on the door of the unit. That way, you get a better indication of how well the oven is soaking up the heat and display throughout the baking cycle.
As with the Professional Plus series, the Platinum Plus also enjoys the convenience of an ASH BOX for ease of cleaning. This is a handy feature to have, as doesn't necessarily need to be emptied after each cooking cycle. Other similarities include the "One Flat Cooking Surface". This feature ensures a smooth surface so that pies and other objects don't get hung up on individual bricks that may shift during the life of the oven. Also, there's nothing to chip or trap excess dust. Moving wood is also easier to accomplish without interruption.
So who would be a candidate for this particular wood-fired oven? Well, for one thing, anyone who appreciates impeccable quality and value. Someone who won't settle for the ordinary is definitely a candidate for all things that are fine. After all, a wood-fired oven is a one-time investment. Whether it stands alone or is integrated into an existing Al Fresco Kitchen, the ilFornino® Platinum Plus is a perfect compliment for the casual or serious chef who has an eye for the best.