Posted by ilFornino New York on 7th Feb 2020

Introduction
Making Homemade Neapolitan Pizza in your ilFornino wood fired oven is only part of the pizza experience. The quick heating and heat retention attributes of ilFornino ovens can create authentic Neapolitan Pizza. Every now and then, you should take a culinary trip to Chicago, and create a homemade version of their world famous homemade Chicago-Style Deep Dish Pizza in Wood Fired Pizza Oven.
The good news is that you can make both types in the same cooking session. This is because Neapolitan pizza requires 750 – 900 degrees to cook in 90 seconds, and Chicago-Style Deep Dish Pizza cooks at about 450 degrees for about 30 minutes. Once you preheat your ilFornino outdoor wood fired oven as you normally would and then allow it to cool to about 450 degrees.
Besides temperature and cooking time, there is a vast difference between the Neapolitan and Chicago-Style Deep Dish Pizza dough. Neapolitan dough is simple and made with "00" pizza flour and very few ingredients, water, salt, yeast and flour. Chicago-Style Deep Dish Pizza crust is thick, buttery and crusty at the same time.
It is cooked in a deep dish or cast iron pan. In order to achieve this texture, it is best to use bread flour, sometimes mixed with cornmeal, yeast, water, salt, olive oil, and optionally, butter. Unlike the long rise times associated with Neapolitan dough, only a few hours are required for Chicago-Style Deep Dish Pizza.
The other significant attribute of true Chicago-Style Deep Dish Pizza is that the toppings are assembled in reverse. That is to say, the cheese (and plenty of it) goes on first, followed by your toppings and finally a heavy layer of extra-thick full-flavored pizza sauce. Unlike Neapolitan Pizza sauce, which is simply uncooked San Marzano tomatoes and salt, Chicago-Style Deep Dish Pizza sauce has onion, garlic, red pepper flakes, Italian seasonings, and salt. These are sautéed, and slowly cooked down to thick and hearty consistency.
Necessary Equipment For Chicago-Style Deep Dish Pizza
ilFornino wood fired oven or other similar oven with wood and associated tools. Measuring cups and spoons, bowls to hold and mix all the ingredients.
A frying pan with wooden spoon or silicone spatula to saute toppings.
A lidded pot to prepare the sauce.
2 12-inch cast iron skillets to bake the pies in as the ingredients is for 2 pies.
A chef's knife and cutting board for slicing and dicing.
A pastry brush for oil distribution. The iconic Chicago-Style Deep Dish Pizza sports a very crispy crust from bottom all the way up the sides. This is achieved by generously oiling the pan or Cast Iron Pan before introducing the rolled out dough.
A long thin spatula for removing the pie to a flat surface for cutting.
A large mixing bowl, stand mixer with dough hook, or a bread machine for making the dough.
Chicago-Style Deep Dish Pizza (two 12" pies)
INGREDIENTS HOMEMADE CHICAGO-STYLE DEEP DISH PIZZA SAUCE:
28 ounce can of San Marzano tomatoes. (If unavailable, use standard tomatoes with some sugar to round out the flavor.)
4 cloves of fresh garlic, finely diced.
1 onion diced.
2 tablespoons of dry oregano or a blend of Italian spices.
1 teaspoon of dry red chili pepper.
3 tablespoons of extra virgin olive oil
2 teaspoons of salt, to taste.
STEPS FOR COOKING HOMEMADE CHICAGO-STYLE DEEP DISH PIZZA SAUCE:
Place olive oil, onion, garlic, red pepper flakes, salt and dried herbs in a small pot.
Saute over medium heat until onions soften and brown slightly. Do not burn the garlic.
Add the tomatoes, and break them up until slightly chunky.
Simmer for 20 minutes to thicken with a lid slightly ajar to prevent splashing. Reduce until a spatula can expose the bottom of the pan, without the sauce flowing back.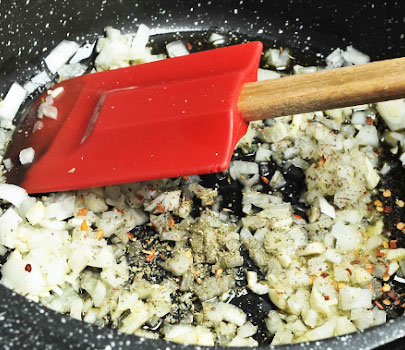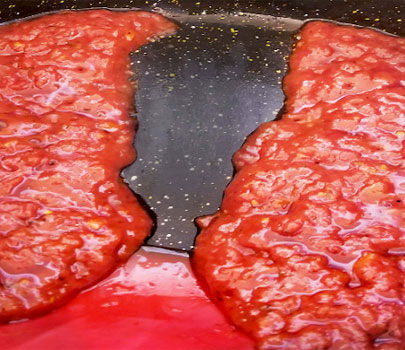 DOUGH INGREDIENTS FOR CHICAGO-STYLE DEEP DISH PIZZAS:
24 oz. of bread flour
16 oz. of warm water
2 and ½ teaspoons of instant yeast
2 tablespoons of extra virgin olive oil
1 tablespoon of sea salt
1 teaspoon of sugar
STEPS FOR MAKING HOMEMADE CHICAGO-STYLE DEEP DISH PIZZA DOUGH:
In a mixer with dough hook, a bread maker or a large mixing bowl, place water, sugar, salt, olive oil and yeast into a bowl and mix for about 10 minutes.
Remove the dough onto a lightly floured surface and hand kneed until a smooth dough ball is formed.
Place the dough ball into a lightly oiled bowl or container and let it rise for 2 hours.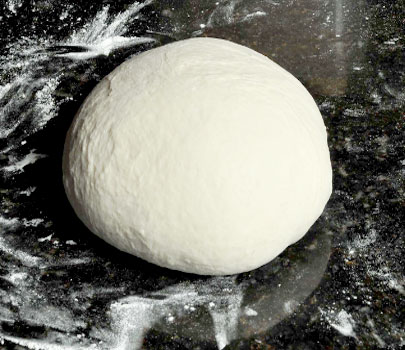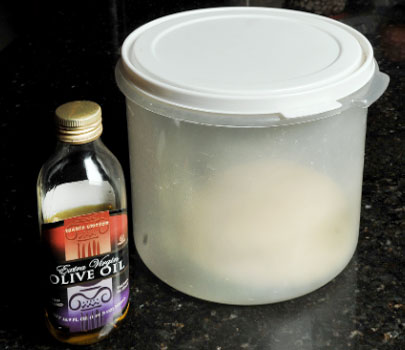 After rising, punch down the dough ball by hand.
Reform into a smooth dough ball on a lightly floured surface, cover and let rise for another hour.
Cut of about 450 gram of dough and roll it out in the shape of a circle about 16 inches in diameter.
Transfer the rolled out dough to a well oiled cast iron pan or skillet and gently press to the walls without tearing the dough.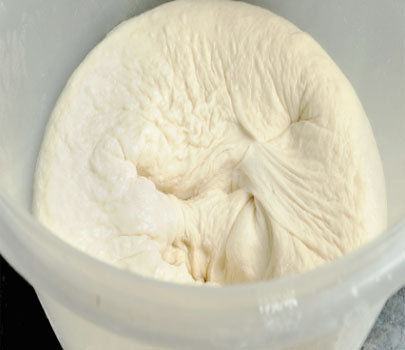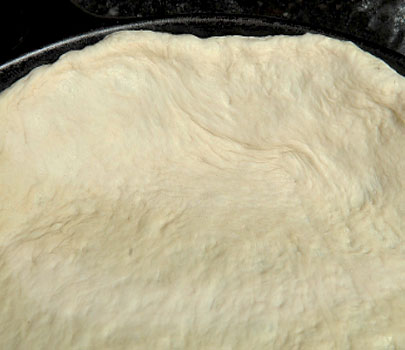 PREPARING THE TOPPINGS AND ASSEMBLING THE PIE:
The first layer in Chicago Pizza is cheese. I chose provolone on the bottom, followed by cooked sausage, sauted mushrooms, and roasted red pepper. Feel free to choose toppings of your choice. No pineapple, please.
Continue to add copious amounts of fresh mozzarella, low moisture mozzarella, and Grated Parmesan Cheese. Don't skimp on the cheese. You should expect to use at least a pound or more of cheese. The last layer of cheese should be freshly Grated Parmesan Cheese.
Please avoid the stuff found in containers. It just doesn't lend itself to any self-respecting pizza.
Add a thick layer of sauce to almost come up to the top of the pie. Top with more fresh Grated Parmesan Cheese.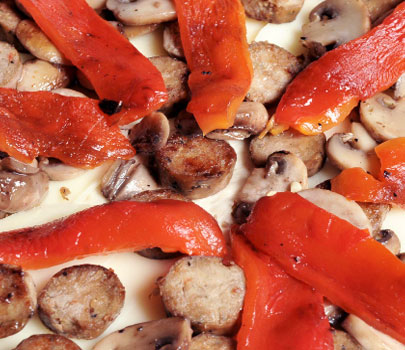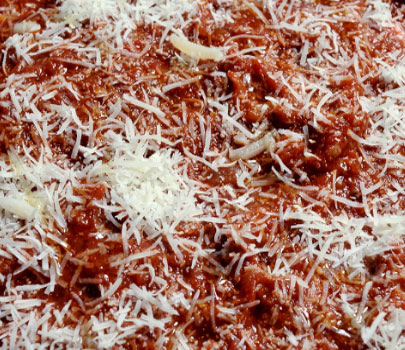 BAKING THE CHICAGO-STYLE DEEP DISH PIZZA PIE IN WOOD FIRED PIZZA OVEN:
Start you fire and preheat your ilFornino Oven making sure the oven floor is uniformly hot. A good heat soaking of the oven floor is essential for creating the crispy crust associated with Chicago-Style Deep Dish Pizza.
Fire-roast any toppings, while the flame is present. I chose to introduce red bell peppers. You could plan other foods, such as eggplant, butternut squash onions and potatoes.
Allow the oven temperature to drop to about 450 degrees and introduce the assembled Chicago-Style Deep Dish Pizza in the Cast Iron pan or skillet. For best results, use an ilFornino oven with One Flat Cooking Surface. That way, it will be easy to place maneuver the heavy Cast Iron skillet without any hang-ups. The one-piece construction of the oven floor insures even heating.
Gently slide the Cast Iron Pan into the oven and bake for about 35 minutes, turning occasionally.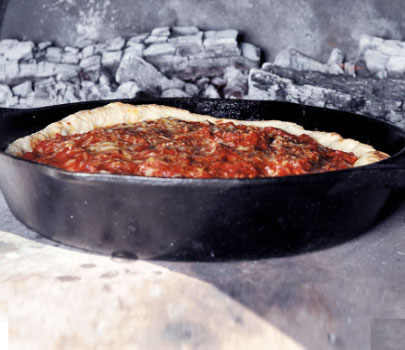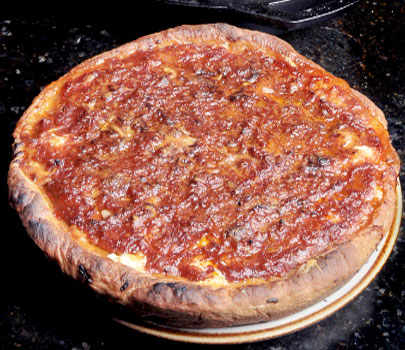 Carefully remove the Chicago-Style Deep Dish Pizza carefully to a plate or cutting surface using a long spatula.
Let cool for about 10 minutes before slicing. I recommend slicing each slice as needed. It will retain the heat and preserve the goodness of the melted layers of cheese.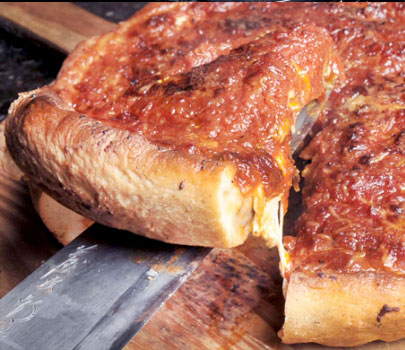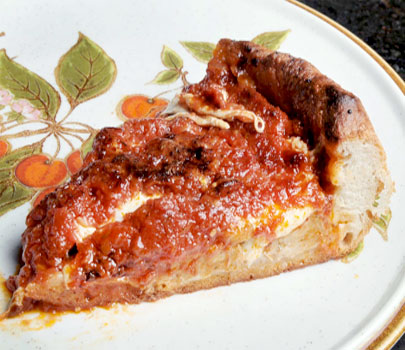 Plate and enjoy!
Tips
You can add other variations of toppings. Don't forget that while your oven is cooking; take advantage of the oven by introducing other foods for cooking.
Remember, during the initial heating you can still produce Neapolitan Pizza and enjoy the best of both worlds. If you have any leftovers, which we seriously doubt, you should wrap individual slices in aluminum foil and refrigerate. When needed, you can simply warm up each slice without the abundant sauce and cheese creating a mess in your oven.
Summary
Making a Chicago-Style Deep Dish Pizza is quite different from baking a Neapolitan or New York-Style Pizza. A Chicago Style Deep Dish Pizza has to be thoughtfully planned out and constructed verses simply assembling ingredients and putting it together. One advantage is that if you did not prepare your Neapolitan dough ahead of time, or ran out of 00 flour, this will enable you to enjoy a hearty variation.
Also, it is nice to explore the capabilities of an ilFornino wood fired oven with this recipe and acquire a new skill in your pizza arsenal. Beware; once you try a homemade Chicago-Style Deep Dish Pizza, you and your guests may clamor for a repeat performance. This savory, crusty and extra cheesy classic, is hard to resist.
View More