Succulent Crab Boil in Wood Fired Oven
ilFornino wood fired ovens are extremely versatile. The types of food that you can cook are only limited by your imagination. This recipe is focused on creating a classical American Crab Boil, similar to those done in the Chesapeake Bay Area. The experience is to enjoy a very informal, yet delicious meal with friends and family. So bring you wooden mallets and you appetite as we recreate this iconic feast in your wood fired oven.
Equipment:
ilFornino Wood fired oven with a supply of wood (of course)
A large stainless steel or cast iron pot that will fit comfortably though the oven opening.
Some heavy-duty heat resistant gloves to handle the hot pot
A small table or landing spot to accept the heavy hot pot after it is removed from the oven.
A couple of wooden mallets (one for each guest to crack open the cooked crabs) or nutcrackers to get to the flesh
A large colander to drain the contents
Some butcher paper to cover your wooden table (optional) or a large tray or serving platter
Lots of napkins and optional lobster bibs
Ingredients:
All ingredients must be as fresh as possible.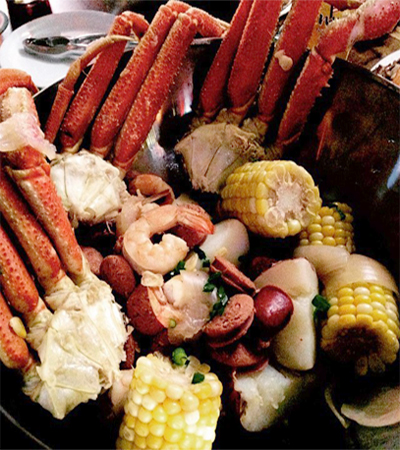 Corn on the Cob – cleaned and cut in half or thirds. 1 ear per person
Polish or your favorite Sausage (Chorizo as an example) 3 pounds cut into 1-inch pieces
Small red or new Potatoes 3 lbs. left whole
A couple of tablespoons of Old Bay Seasoning, Zatarain's or your favorite crab boil spices. Add Cayenne pepper if you like heat.
A couple of pounds of your favorite fresh Crab in season. Blue Crab, Snow Crab or Dungeness. Small Crabs left whole, large ones cut up.
Peeled and deveined fresh Shrimp – medium size about 1 or 2 pounds (Can be left with tail on, or completely in shell - optional)
Water to fill the pot without overflowing when all the ingredients are introduced.
Rustic bread and creamy butter
Lots of cold beer to wash it all down
Method:
Choose the largest pot that will comfortably fit inside your ilFornino Oven.
Fire up you oven and get a roaring fire going.
Once the wood has heated the oven and floor, move the wood to the back or sides, which ever allows you the most space for your pot.
Place the pot with water into the oven and let it come to a rapid boil. Make sure the water doesn't boil over on the floor.
Add the Old Bay or other seasonings to the pot.
Add the potatoes, corn, and sausage to the pot and boil for about 15 minutes
Carefully introduce the crab into the pot, making sure they are fully submerged and cook for about 8 minutes.
Carefully stir in the shrimp and cook for 3 to 4 minutes until they are opaque.
Once the shrimp are done, carefully remove the pot and drain into a large colander in a sink.
Dump all the contents on a paper covered table or a large platter.
Serve with rustic bread and butter, and cold beer or beverage of your choice.
Cautionary note:
Make sure the water doesn't boil over during the entire cooking process.
The pot will be very hot, and very heavy. It is a good idea to have a table close by to place the pot as a temporary landing for its journey to the sink.
Don't wear you best suit or tie to this feast, as it will be hand-to-hand contact between your guests and the crabs. That's the fun of it all.
DIG IN AND ENJOY!