Imagine your favorite seafood and pizza! That's what you get with an Ai Frutti Di Mare Pizza. This Italian seafood pizza is served with scampi, mussels or squid and is simple to make.
Start by preparing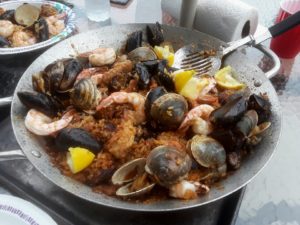 Ai Frutti Di Mare, a thick fish stew normally ladled over pasta or eaten with bread. The ingredients vary according the availability in the market. Even though our recipe is simple, the flavor is rich when prepared in a wood fired pizza oven, since anything baked in a wood fired oven intensifies the flavor. Welcome to Flavortown!
Ingredients you need:
Dutch Oven (to be placed inside your

ilFornino Wood Fired Pizza Oven

)

2lbs scallops, 2lbs large shrimp (cleaned and deveined), 2lbs mussels (cleaned), 2lbs clams (cleaned), 2lbs cubed cod.

2 lemons, juiced

1/2 stick of salted butter

3 cups fish stock

Salt and pepper to taste

1 cup clam juice

5 tablespoons chopped garlic

24 oz. San Marzano tomatoes, peeled

5 tablespoons olive oil
Preparations:
Add olive oil and garlic to your Dutch Oven and place your DO inside your wood fired oven. Add the cod and cook for five minutes before adding the tomatoes. Start adding all of the liquids, except for the lemon juice. As soon as the liquid starts to boil, add the rest of the seafood to your DO. Season the seafood and add butter. Cover your DO and place it close to the fire. Allow the ingredients to cook for about 20 minutes and then move your DO away from the fire and let the ingredients simmer for an additional 10 minutes. Finally, add the lemon juice and enjoy Ai Frutti Di Mare as a stew OR use it as a topping for the pizza.
Ai Frutti Di Mare Pizza:
To make an Ai Frutti Di Mare pizza, start with freshly made pizza dough as your canvas. Add tomato sauce. My favorite recipe is a simple San Marzano tomato sauce made by adding salt and pepper to hand-mushed tomatoes. Do not pre-cook the sauce, as it will cook in your wood fired pizza oven. Add the sauce, cheese and your freshly cooked Ai Frutti Di Mare and voila! You have made a delicious Ai Frutti Di Mare pizza right in your own home.