Outdoor kitchens have been around for a long, time. Cave men found this out once they emerged from their caves. But seriously, the Alfresco Dining experience adds a new level of cooking and entertaining. There are various categories that people who have, or are thinking of getting an outdoor pizza oven. Either they already have an outdoor kitchen, and would like to incorporate the addition of a wood fired pizza oven, or they are about to secure an outdoor kitchen for their home. I am going to address these two scenarios.
Just Starting: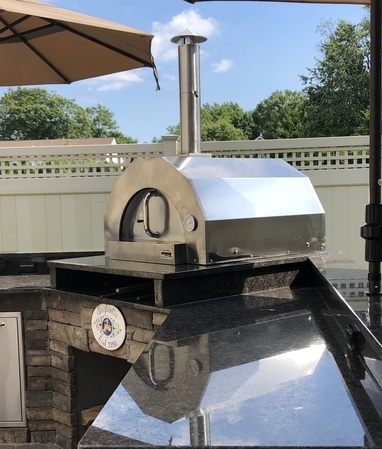 Let's look at the person who doesn't have an outdoor kitchen. In most cases, a simple Barbeque or Smoker unit is the first step in outdoor cooking. While units can be quite elaborate, it is possible to have a low cost point of entry into alfresco dining. As time goes on, however, there may be a tendency to add additional components to round out your outdoor cooking capabilities. Side burners, refrigerators, and wood fired pizza ovens, are just a few items that accomplish this. As you do so, you realize that the simple addition of these items may create an awkward workflow and potential eyesore. However, if you have the space and the budget, you may now consider formalizing your experience by securing a true outdoor kitchen and dining area that you would be proud of. It will elevate your experience both functionally and aesthetically.
What goes into this area is dependent on a host of factors. Space, types of appliances, modes of fuel, and budget are the things that one should consider. When considering these options, keep in mind you need to incorporate storage space, as well. While it may be a significant investment, besides the enjoyment factor, if done properly you home value will dramatically increase.
Basic steps in creating a new Outdoor Kitchen:
Once you have arrived to the conclusion that you are serious about creating such a unit, I recommend you sit down and analyze what cooking functions you would like to incorporate. Unless you have a friend that has one that you'd like to duplicate, I suggest you search the Internet or visit a dealer showroom that specializes in these units.
You will find that the choices are almost endless.
Items to consider:
Built-in Barbeque, Refrigerator, Ice maker, Sinks, Stove Tops, Griddles, Beer and Wine Coolers and a host of storage area, and of course a Wood Fired Pizza Oven. In areas where extended use in colder climates is an issue, fireplaces or fire pits can be a wonderful addition.
Your choices are also dictated by space, quality of appliances, fuel supply, and location to utilities such as gas, water or electricity. Whatever you do, do not compromise on the quality of your appliances, as these will be built in and need to last for years. Thing happen over time, and a reputable product will have replacement parts, should they be required.
If you have the budget, you can have your dealer or a customer fabricator build this kitchen for you. You may want to consider building the area yourself, if you have the skill and time to do so.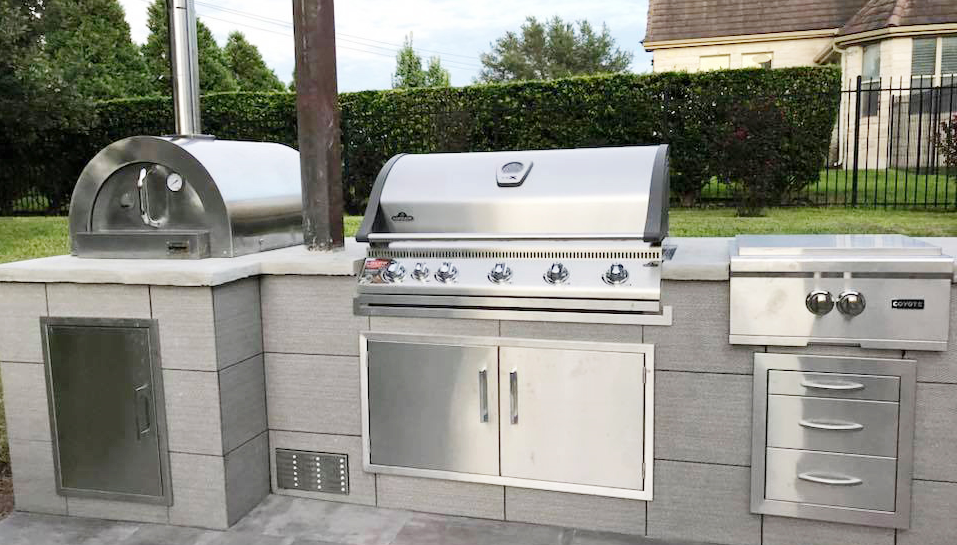 Why ilFornino Wood Fired Ovens?
ilFornino carries a wide variety of high quality wood fired pizza ovens that offer the right size, budget and look for your outdoor kitchen. The high quality stainless steel will blend well the various built-in barbeques. These units can be built–in or simply set atop an already existing countertop. What is even more impressive is that the ilFornino Professional Plus has an adjustable high stand that can be positioned at the proper level. This is important if you simply want to keep the unit portable and butt up against your outdoor kitchen. Plus, if you live in a coastal area close to salt water, you can ask about a special protective coating that can be applied at time of purchase. This coating will protect you oven from oxidation, as only very expensive marine grade steel is truly rust proof. Discuss this option at time of purchase with your sales representative. Alternatively, you could even build a customer cathedral around your oven for a unique look.
Things to be aware of:
Appliances that generate heat need appropriate space for safely and proper ventilation. Sometimes people choose to have a cover or roof in their outdoor space and that needs to be addressed. Even refrigerators require ventilation. Outdoor certified refrigerators usually have the exhaust coming out the front, instead of the back. Use of wood bases, instead of brick or stone, need special attention for insulation.
Any units that use gas, such as propane or natural gas, would need ventilation and an access to turn off the source. When installing these units, make sure a licensed person is involved with that phase of the project. Make sure smoke and heat exhaust is not impeded.
It may not be obvious; all things being level may not be a good thing. While appliances should be level, countertops need to be pitched in a way that will shed water and not pool on the surface and possibly destroy your equipment.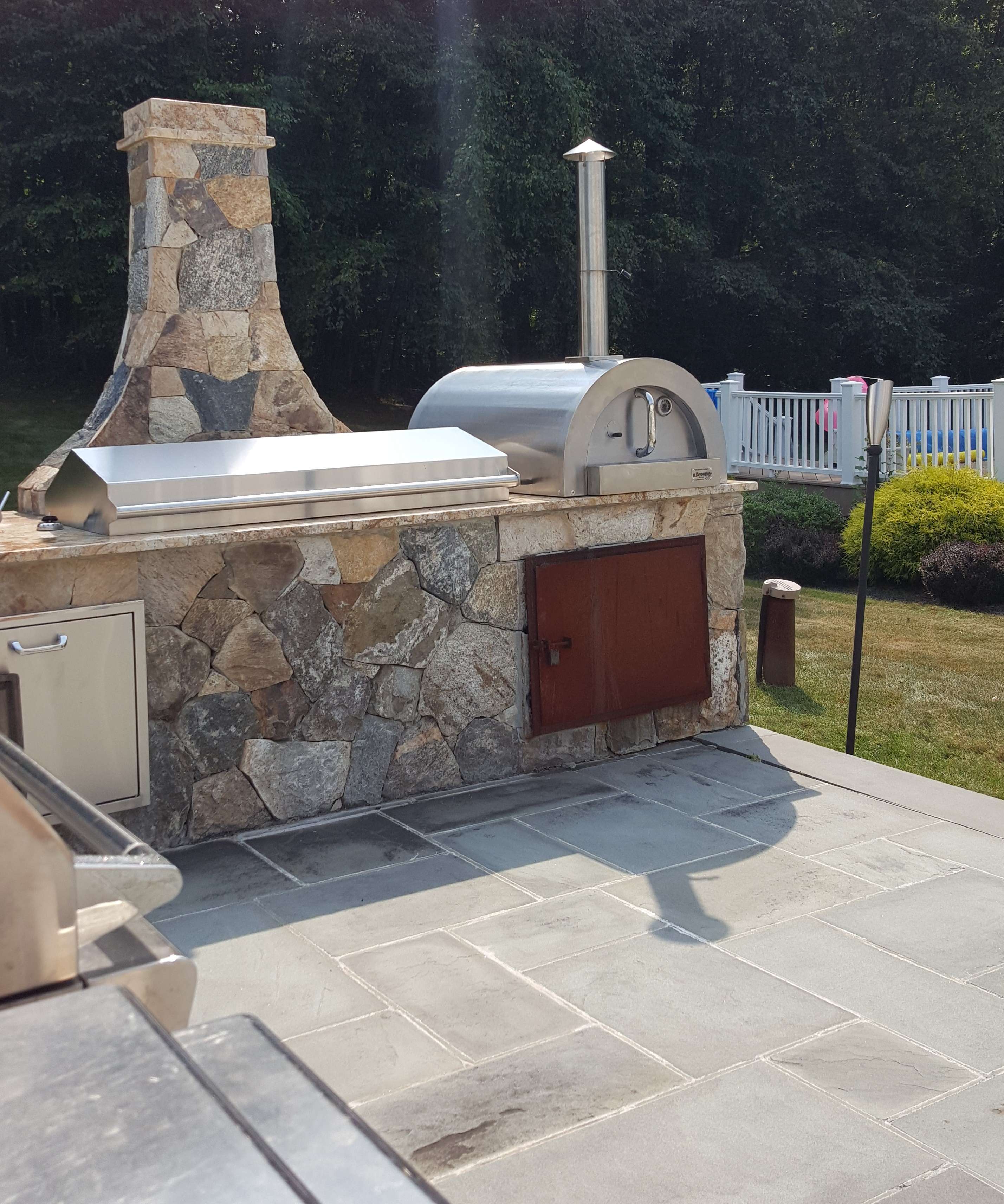 Adding a wood fired pizza oven to an existing outdoor kitchen:
If you already have an outdoor kitchen and want to add a pizza oven, as mentioned before, ilFornino has the right oven for you. Various styles and sizes that are offered share many similar qualities such as robust materials, great service and support. Whether it is a portable unit, or added on top of your kitchen, you will enjoy the adventure of creating yet another fabulous food experience. Even it you already have a huge oven built in to an elaborate outdoor kitchen, you may want to consider an ilFornino Mini "F" Pro for those times when you are not entertaining a crowd. Quick heating with less fuel will allow you to enjoy proper homemade pizza more often.
To summarize:
Outdoor kitchens and alfresco dining offer a great experience for your family and your guests. You get to enjoy the outdoors, while cooking a variety of foods that can't be cooked indoors too easily. Adding a wood fired pizza oven is a logical addition to complete your kitchen. It can become an important focal point for you dinning experience.